Free eBook Reveals How to "Get More Google Reviews from Your Clients and Customers"!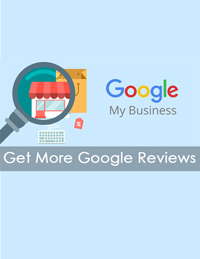 In my 20 years of working with small businesses helping them use the Internet to grow their business, lately the number one question has revolved around online reviews.
In case you have been too busy running your business to pay much attention to online marketing and the huge changes that have occurred over the past 5 years, it is time to catch up and understand that what people are saying about you and your competition online has a huge impact on your ability to prosper in the digital age.
The truth is, the enormous growth of smart phones and instant search has totally changed the way consumers search for local businesses.   We now live in the "when I need it" marketing age.
Gone are the days when consumers search yellow page books or comb through junk mail to find local businesses. Instant search on computers, tablets, and smart phones allows people to find businesses like yours instantly and right in their neighborhood.
Get Your Free Get More Reviews eBook Now! Instant Download!

Why should you read my free eBook now!
Online Reviews are the New Word of Mouth!
Are You a Five Star Business?
How people choose a local business has changed dramatically over the past 5 years. With the growth of smart phone use and easy access to the internet regardless of where you are, consumers are doing their research on the fly.
What people say about you online has a huge effect on whether you will get their business!
The ability to be online 24/7 has empowered consumers to be much more selective regarding who they choose to do business with. Once they find local businesses through their search efforts they immediately check out the reviews to see what others think about your business.
In fact, a recent survey by Zendesk discovered that 90% of respondents claimed that positive reviews they found online affected their decision to use that business, and 86% said that negative reviews also influenced their decision.
Like it or not, your ability to harness the power of getting good reviews from satisfied customers will have a dramatic effect on how well your business obtains new customers and clients.
How Can you Get More Google Reviews and Build a 5 Star Reputation Online?
This is a question we get everyday from small business owners that are frustrated regarding getting more reviews. We also hear from business owners that are hampered by a few negative reviews that is hurting their business.
The fact is, if you get a negative review and do not offset it with positive reviews, interested prospects will get a negative perception about your business and go elsewhere.
As more and more consumers rely on online reviews to determine which local businesses to use, it is important that you have a plan of action now for your business.
Many successful local businesses admit that having a solid review gathering strategy has helped them grow their business.
If you are serious about improving your online reputation and learning how to create a powerful review gathering strategy for your local business, you should download our Free eBook right now!
"Free eBook Reveals the Secrets to Help Your Business Get More Google Reviews from Clients and Customers!"
Discover how successful small business owners create an endless stream of 5 Star Reviews using simple yet effective review collecting tactics.
If you are a small business owner and have questions regarding your current online presence and want to improve your exposure in the search engines please do not hesitate to contact me direct and I will do a Free analysis and tell you where you need to improve!